Project Idea
---

Wednesday, January 20, 2021
There are documentaries and news specials regarding Covid-19 and how it affects schooling, but nothing in the Southbury area, not even about the pandemic in general.
---

I believe that Academia Lost is a good approach to educating quite a few audiences on the affects the pandemic had on schooling. As this project is unorthodox, my proof will come in the form of the interviews I conduct and the survey I send out.


---
Attachments
Research Document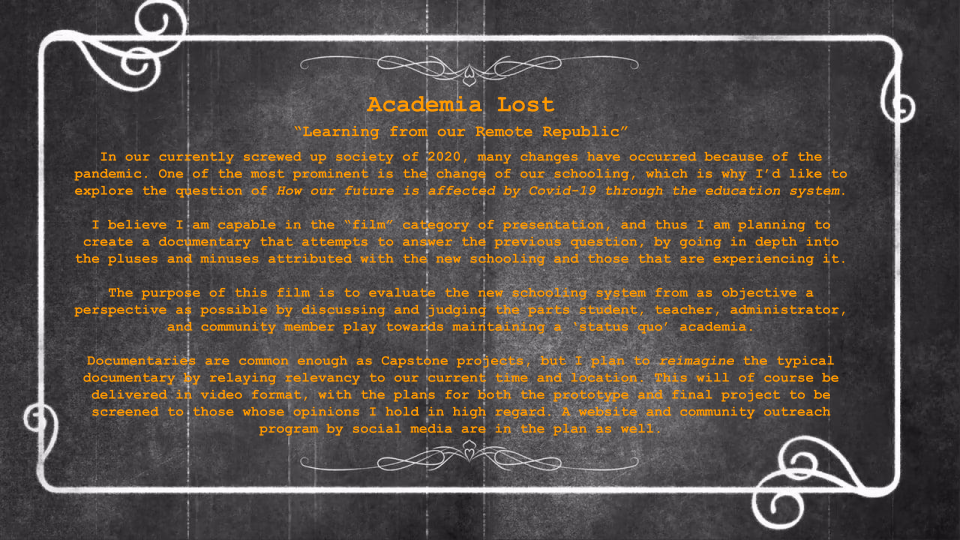 Tuesday, January 05, 2021
In our currently screwed up society, many changes have occurred because of the pandemic. One of the most prominent is the change of our schooling, which is why I'd like to explore the question of what we can do should we face something like this in the future.

I believe I am capable in the "film" category of presentation, and thus I am planning to create a documentary that attempts to answer the previous question, by going in depth into the pluses and minuses attributed with the new schooling and those that are experiencing it.

The purpose of this film is to evaluate the new schooling system from as objective a perspective as possible by discussing and judging the parts student, teacher, administrator, and community member play towards maintaining a 'status quo' academia.

Documentaries are common enough as Capstone projects, but I plan to reimagine the typical documentary by relaying relevancy to our current time and location. This will of course be delivered in video format, with the plans for both the prototype and final project to be screened to those whose opinions I hold in high regard.
---