Posts
---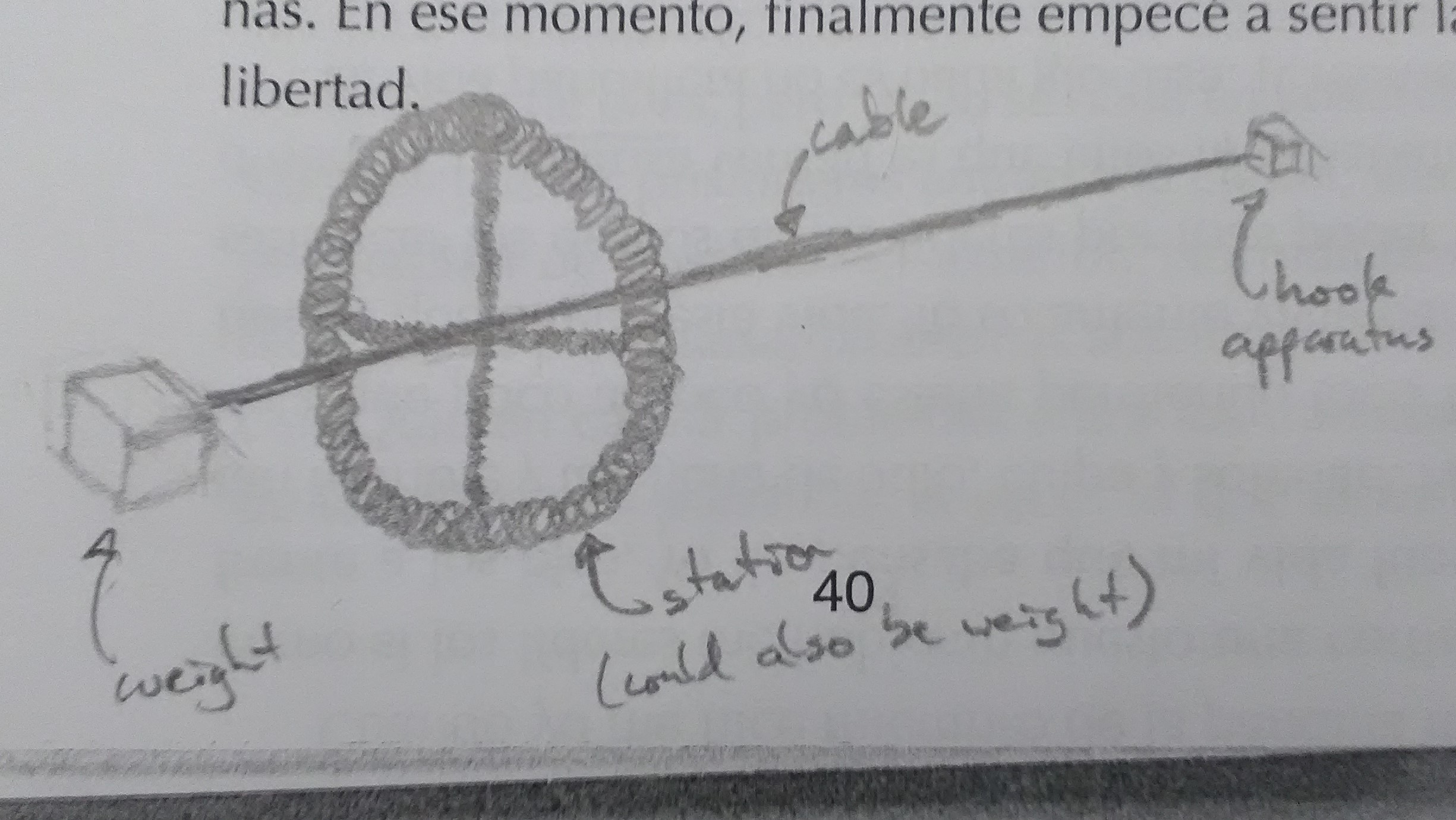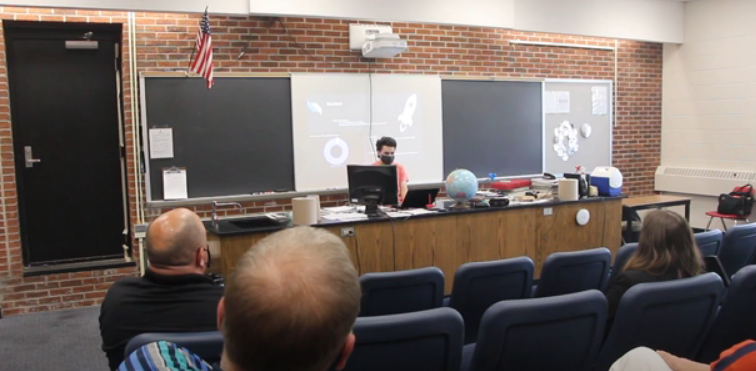 Blog Post #16: Community Outreach!
Date: May 13, 2021
Yesterday I was able to present my project to almost the whole science department. I showed them my prototype, tried to relay the concept of a space tether, and created a short slide about each part of my project. In many ways it was also almost like a practice pitch.
I got some great feedback, and I hope to use as much of it as I can before May 25. I'm so glad that the science department was willing to meet with me and listen to my presentation! Thanks!
#Community Outreach #Pitch
---
Attachments
communityoutreachpoints.jpg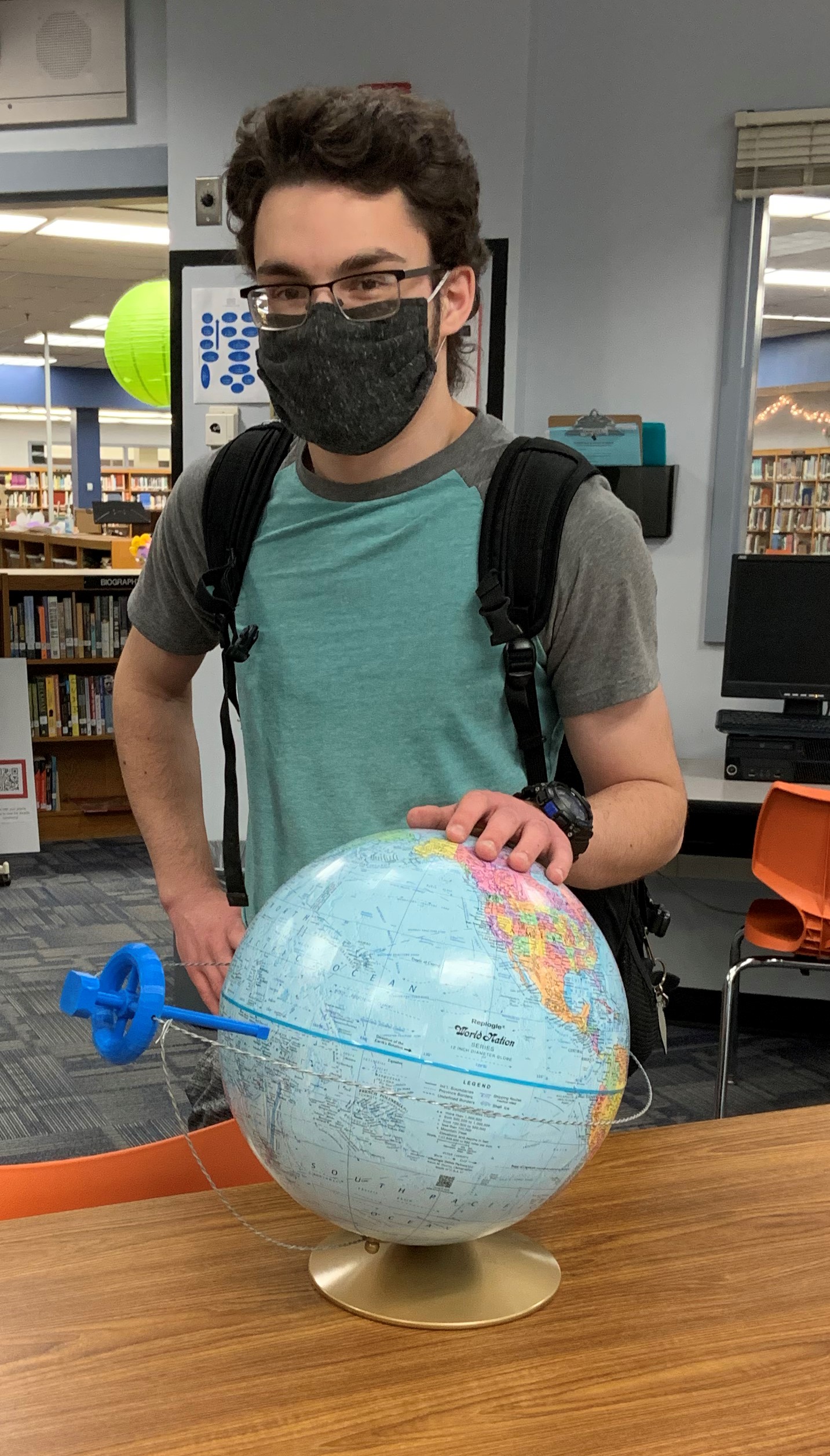 Blog Post #15: Prototype Success!
Date: May 11, 2021
Prototype success! After much trial and error, and help from a classmate and the wood tech teacher, my model with the prototype is now complete! With some metal wire twisting and bright welding, the prototype is now in "orbit" around the globe!
Special thanks to classmate Neil and wood technology teacher Mr. Napoli for their help with my model! Thank you so much!
#Prototype #Problem Solving #Creativity
---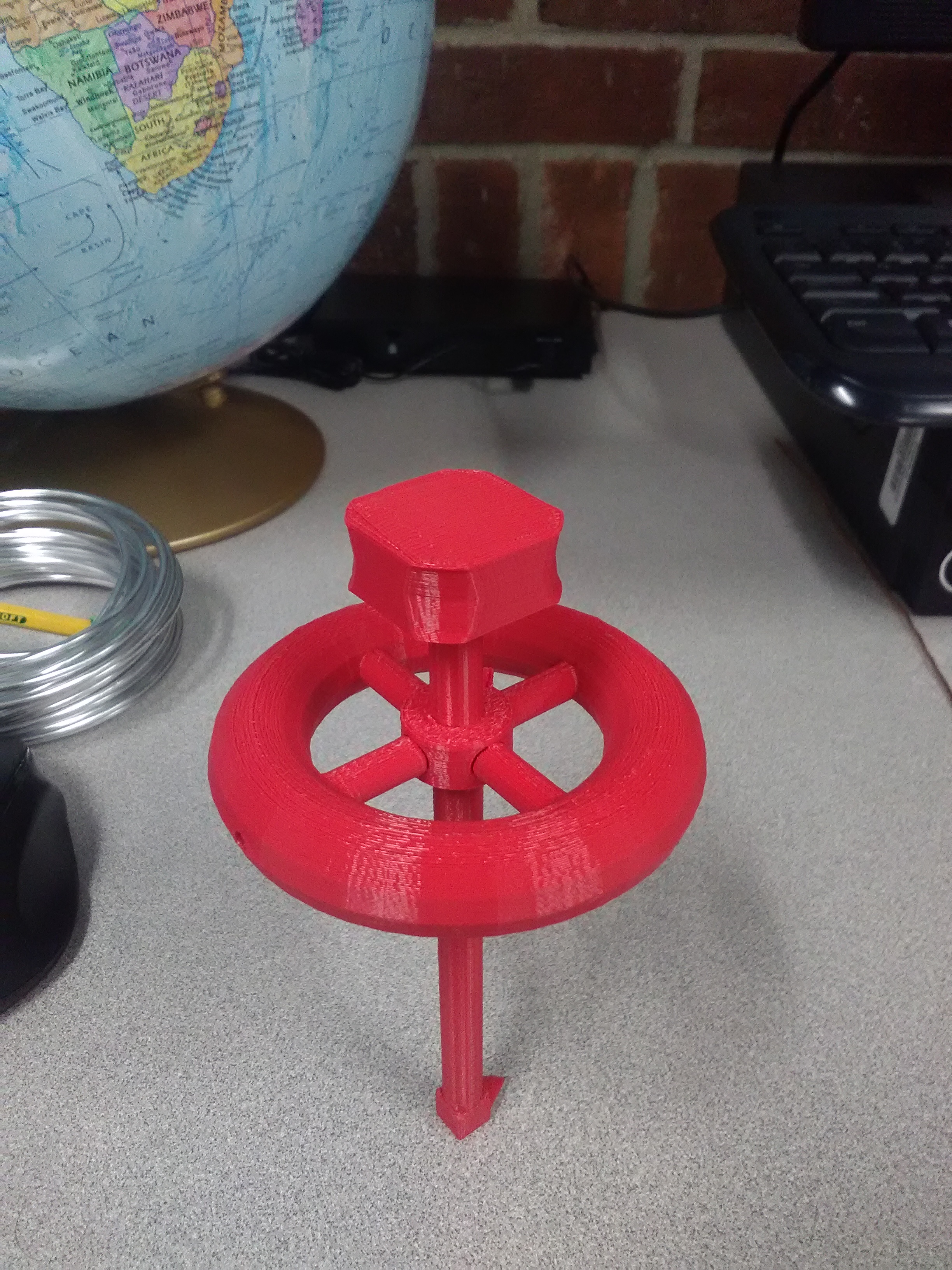 Blog Post #14: Space Tether Prototype and Community Outreach Delay
Date: May 5, 2021
The first space tether model has been printed (in bright red)! Just taking off the rest of the flashing stuck to it and it's ready to go.
I've also received word that my meeting with the science teachers of my school has been delayed to next Wednesday (May 12). It's unfortunate, but hopefully it means that there will be more teachers present for it. Crossing my fingers!
#Problem Solving #Roadblock
---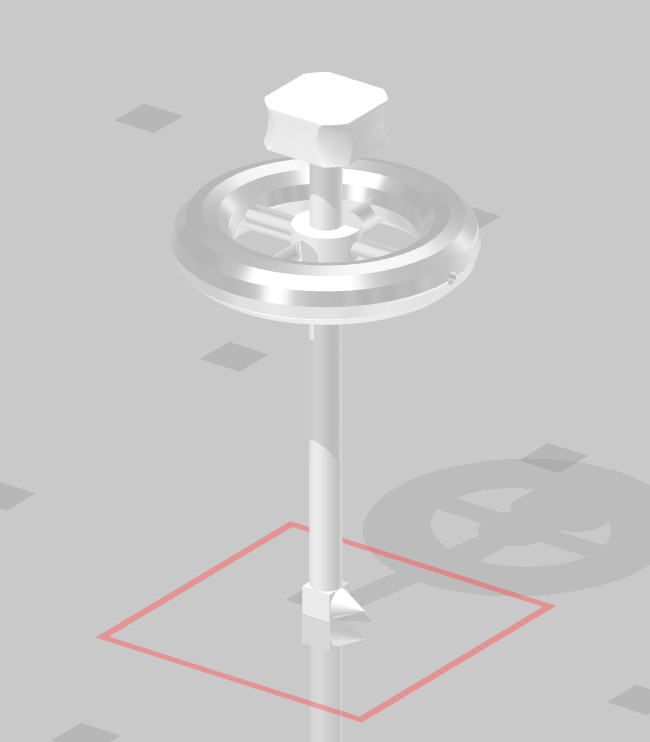 Blog Post #13: Finished Blender Model!
Date: May 3, 2021
Finally finished my blender model of the space tether! Now all I need to do is get it printed out and I'll have a physical prototype!
#Creativity #Prototype
---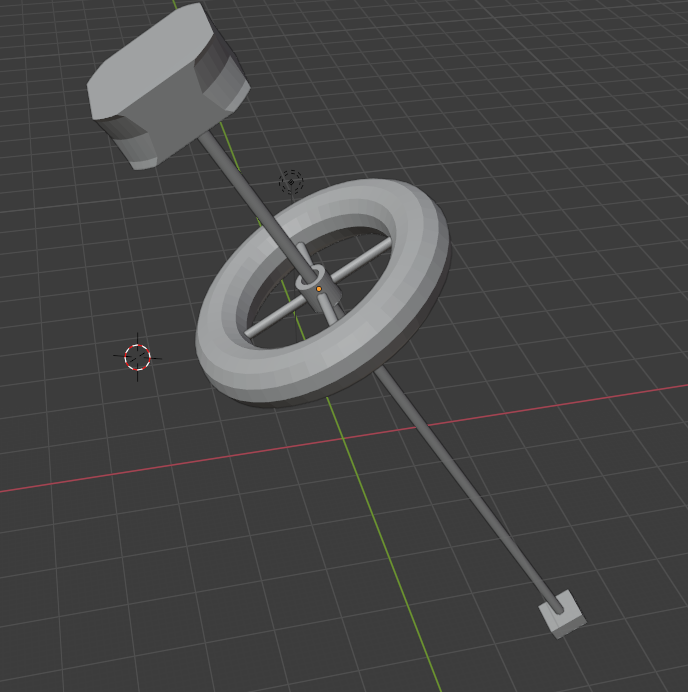 Blog Post #12: Blender Modeling
Date: April 27, 2021
I've begun modeling! A space tether has swiftly been created in the blender 3d modeling world, and it'll soon be finished. Here's a sneak peak of my model!
#Creativity #Prototype
---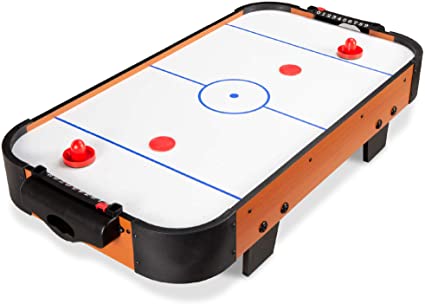 Blog Post #11: Experiment/Demonstration!
Date: April 19, 2021
Lots of spinning pucks! I finished my experiment, and after much trial and error, I finished all the trials, and have begun calculating the rotational speed of each trial (in seconds per revolution). Gonna be quite a slog though! Many times the rod/puck system hit the side of the table or didn't spin enough. I'll get through it though!
Happy science!
#Experiment #Problem Solving
---

Blog Post #10: Survey Analysis
Wednesday, April 07, 2021
Date: April 7, 2021
It's been some time after publishing my survey. Looking back at it, I got 211 responses!!! That's a lot of people! Some of the results I expected, and some surprised me.
It turns out there's significantly more people familiar with space elevators and space tethers than I thought. Many who responded to my survey believe that space travel and exploration is important, and/or that it will be in the future (which is encouraging).
Just under 55% of people also said that they would go into space if given the option (also encouraging).
#School Involvement #Communication #Community Outreach
---
Attachments
Survey Analysis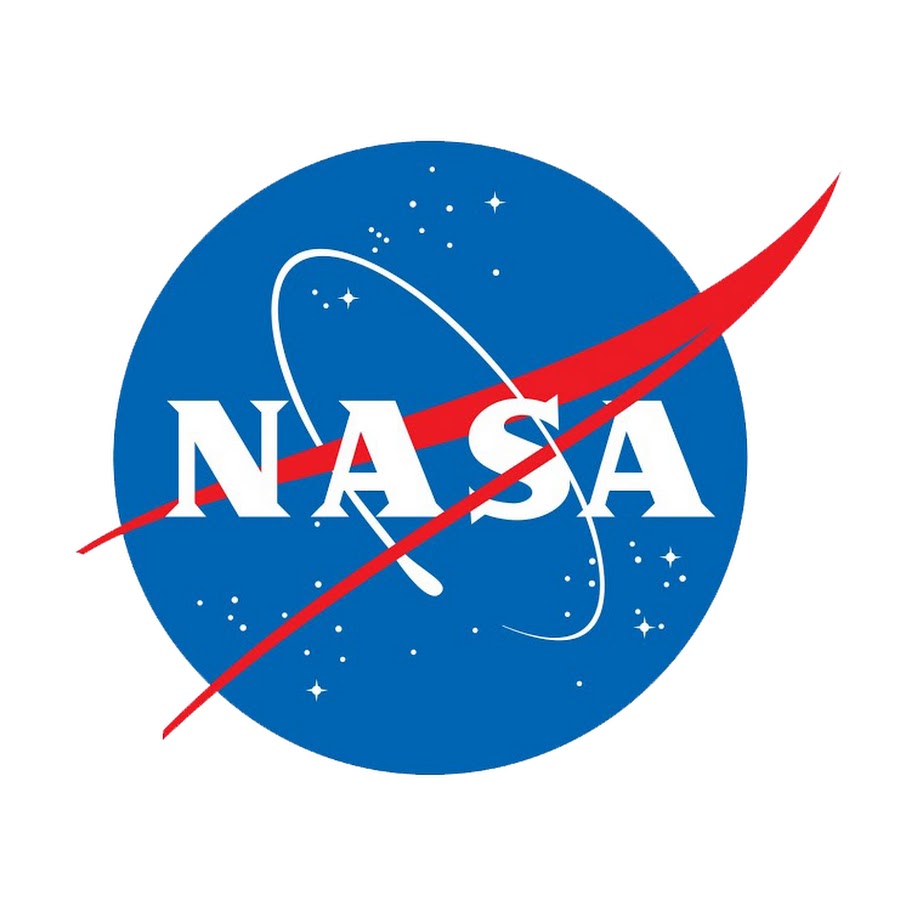 Blog Post #9: NASA Expert?
Date: April 1, 2021
My teacher Mrs. Pelletier wasn't in school today, so my freshman teacher for Skills 2021 (Mrs. Messina) covered us. After mentioning my project to her, she said her brother used to have some connections with JPL. We informed him about my project, and he said he'd ask around. Crossing my fingers that I can get a expert's view on my project!
Edit:
Date: April 8, 2021
Unfortunately, Mrs. Messina's brother doesn't have any connections. I might try to contact someone directly, but it seems unlikely.
#Problem Solving #Communication
---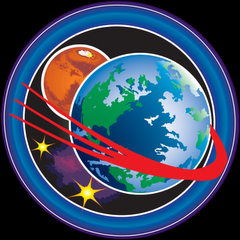 Blog Post #7: NASA's General Mission Analysis Tool
Date: March 30, 2021
Looking for a space simulator, I found GMAT, a NASA produced open source program called General Mission Analysis Tool (GMAT). I've been hoping to use a space simulator as a big part of my project, possibly as my experiment, but I've only found GMAT.
After some learning stretches figuring out how to use GMAT, I've concluded that GMAT won't help my project significantly. While this was a learning stretch for me, as I've never used a program like GMAT before, it lacks the ability to edit the satellite such that it would be similar to a tether.
This is quite the roadblock for me, as I saw the simulation program being a big part of my project. I'm going to need to find a way to work around this.
#Information Literacy #Problem-Solving
---
Attachments
GMAT simple orbit.mp4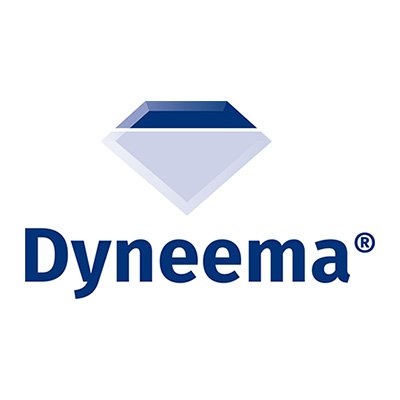 Thursday, February 25, 2021
Date: February 25, 2021
I've found a material that is an excellent candidate for the tether cable: Dyneema. It's slightly stronger than present-day Kevlar, and is several times lighter. It's also resistant to UV rays, which is really good as the tether will be bombarded by UV rays from the sun. This seems to be the best candidate for the material of the cable.
#Problem Solving #Planning
---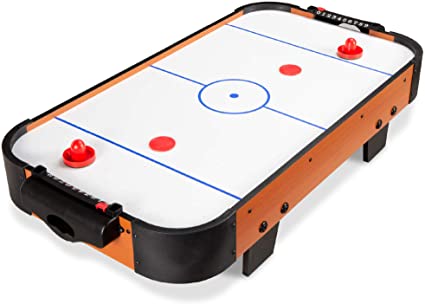 Blog Post #8: Air Hockey Experiment!
March 31, 2021
After my roadblock with GMAT and space simulators, I need to turn somewhere else. I'm going to have to go the experiment route. I began brainstorming ideas about a possible experiment. After talking with my Capstone Experience teacher: Mrs. Pelletier and my AP Physics teacher, Mr. England, the best way for me to conduct some sort of an experiment is by using, of all things, and air hockey table!
#Problem Solving #Creativity #Planning
---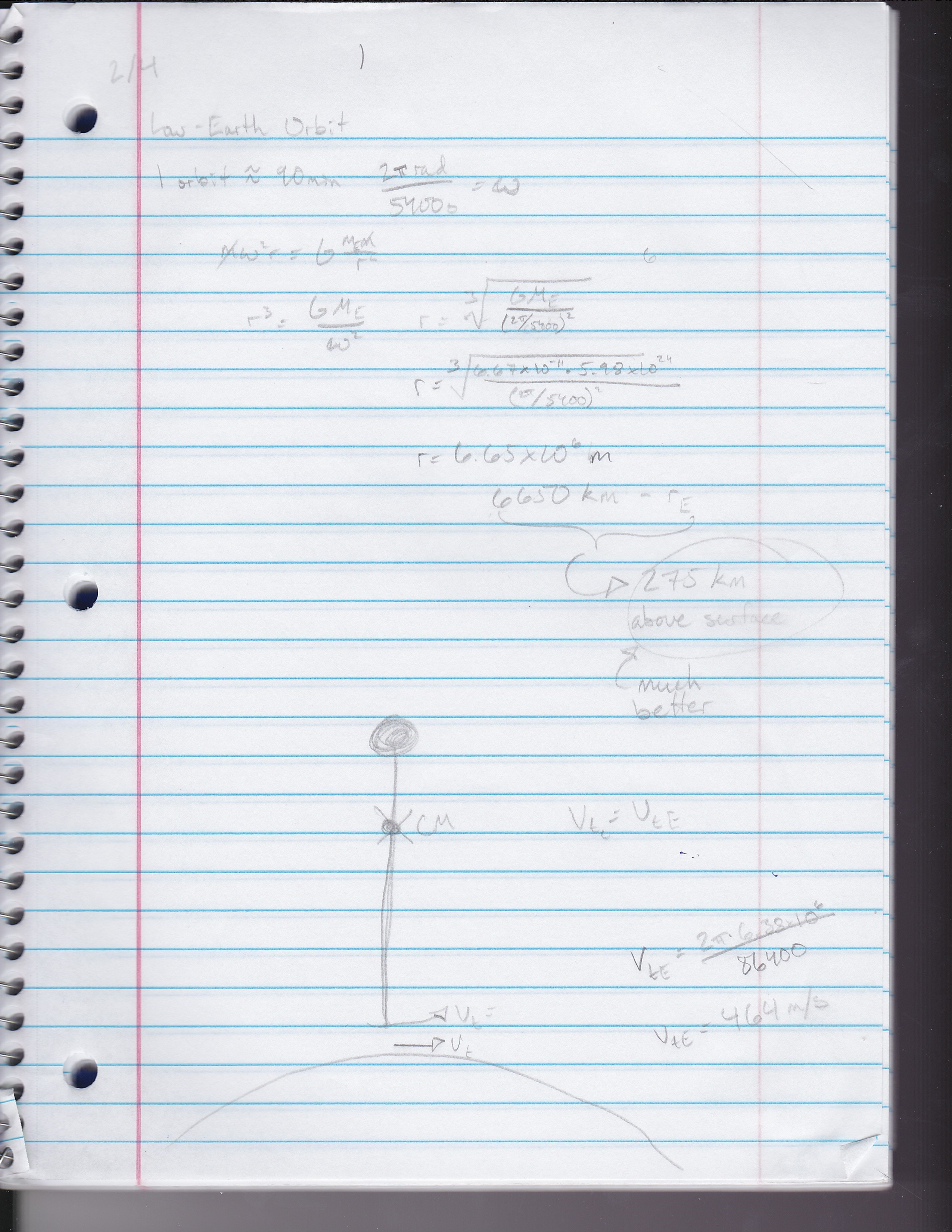 Blog Post #5: Second Day Calculations
Friday, February 19, 2021
Date: February 19, 2021
Forgot to post this after the second day of calculations. I worked on this with my AP Physics teacher about two days after the first day. Here we looked at the equations for an object in Low-Earth Orbit (LEO). We found that the altitude of the object in Earth's atmosphere is determined by the objects rotational velocity. After that, we did some researching together. We found two articles written by a man named Hans P. Moravec. One was the theory of a tether orbiting Earth. The second was him almost critiquing his work, and what needs to improve in technology in order for such a structure to be built.
I'm now focusing on the best materials that can be used for the cable, station, counterweight, etc. I am also looking for equations and expressions that help represent an object in LEO (preferably for an object like a tether) to help calculate the orbit of a tether and how gravity would affect it.
# Problem Solving # Communication
---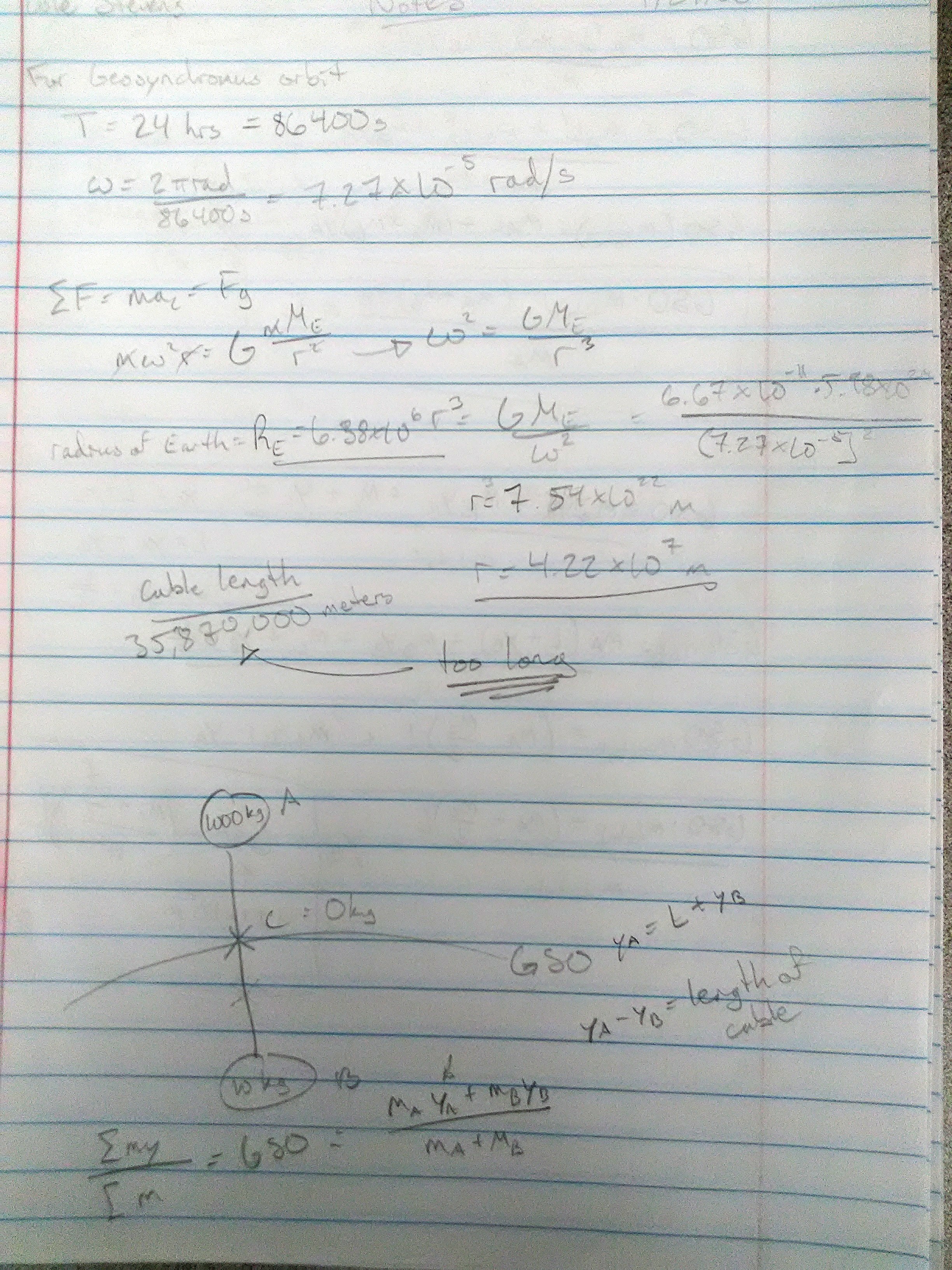 Blog Post #4: Calculations Begin...
Monday, February 08, 2021
February 8, 2021. A couple days ago I started to get help from my AP Physics teacher. We first calculated the altitude of an object in geosynchronous orbit (GSO). GSO means that the angular velocity of an objects orbit is the same with the rotational velocity of the Earth, such that the object is in a fixed point in the sky.
We found this to be over 35 million meters!!!
Way too long, I need to find a better place for the tethers center of mass to be in orbit.
#Collaboration #Problem Solving #Communication
---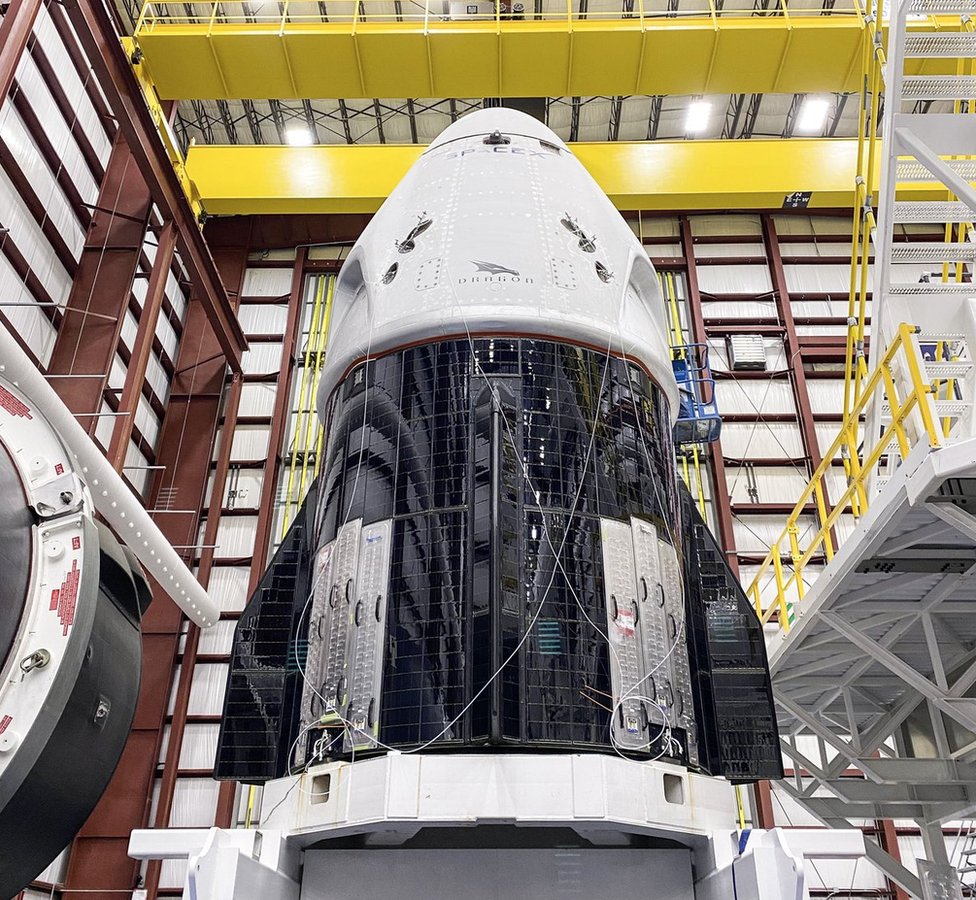 Blog Post #3: Payload Inefficiencies and Looking Ahead
Date: January 20, 2021 Just investigating the statistics of SpaceX's rockets regarding the ratio between payload mass to overall rocket mass. The payload averages at about 4% of the overall mass!! Crazy!!! Only 4% of the entire rocket is what we actually want in space. This is an unacceptable inefficiency.
While the construction of a huge tether in space is a monumental task, it would provide us with a much better payload to vehicle efficiency and put the inner planets within reach of humanity.
I'm about to dive into the physics and theorizing of the tether. I'm excited but also terrified at the complicated physics I might encounter. Hopefully I won't get too frustrated!!
#Information Literary #Motivation
---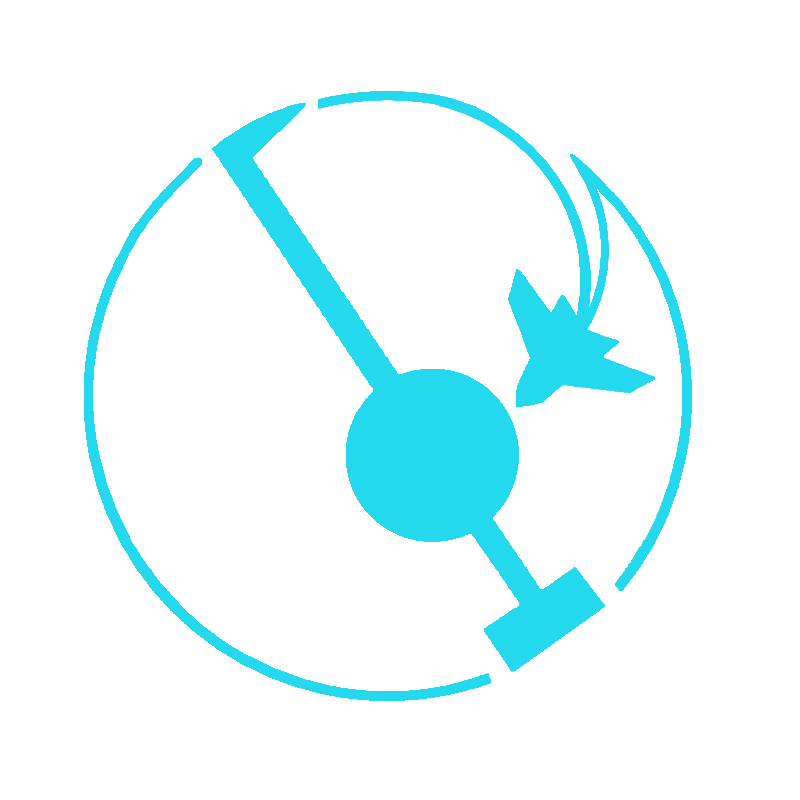 Blog Post #2: Final Logo and Looking Ahead
Thursday, January 07, 2021
Date: January 8, 2021
Here's my final logo! I changed it so it didn't have as much of that Death Star vibe, and cleaned it up a bit.
I'm excited, but also intimidated by the work I'm going to have to do for my project, as it will be very heavy on physics calculations and laws/math I have less of a knowledge on.
#Problem Solving
#Creativity
---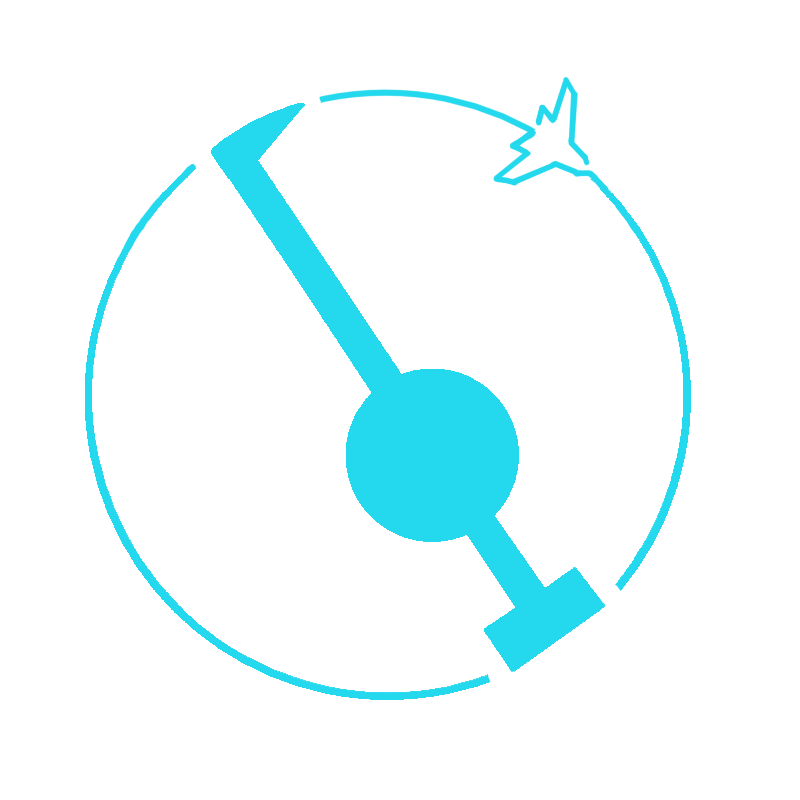 Blog Post #1: Logo Revisit
Wednesday, January 06, 2021
Date: January 6, 2021
Looking back on my logo development. This was my first draft. Showing this to my classmates, they mentioned to me the it looks a lot like the Death Star from Star Wars. This I did not want, so I went back to the drawing board to edit and refine the logo.
#Collaboration
#Problem Solving
---